Events as unique venues top the charts for group experiences. We understand creating a one-of-a-kind event starts with the perfect venue.  A memorable location guarantees a long-lasting and positive association with your event.
We have relationships with specialty venues to provide incredible event experiences!
Vendor Spotlight:
Scottsdale Private Event Venues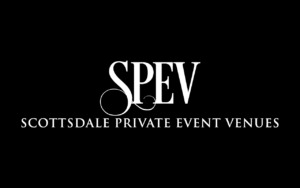 Scottsdale Private Event Venues (SPEV) offers a collection of unique event venues, exhilarating experiences, exquisite foods, and veteran staff to deliver everything you need to host a high-flying affair! All of the event spaces present a one-of-a-kind atmosphere. 2500′ to 45,000′
Founded in 2017 Scottsdale Private Event Venues is offering access to privately owned airplane hangars and a luxury high-end auto showroom for hosting private and corporate events to groups from 100 to 3,000 in size from across the United States.
SPEV provides an impressive venue portfolio, which includes several airport hangars of varying sizes and amenities such as private function space directly on the airport tarmac. Boasting ceilings up to and over 30 feet with exposed rafters and hangar bay doors that open to the airport tarmac, the airport hangars lend the opportunity to create a fully customized and unique atmosphere, unlike any ballroom could provide. Incorporate the residential airplanes into your décor or arrange for a VIP entrance from an arriving helicopter to provide added impact.
Every space is unique in its size, flooring, height, location, and amenities; therefore, customization is the focus of the venue selection and planning process.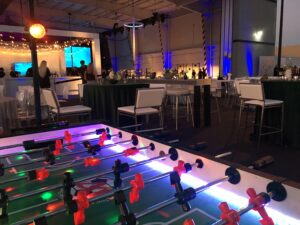 While an expensive hotel can set the platform for a perfectly charming event, every now and then clients crave a truly unique backdrop for their event. Standing out from the crowd involves more than just fabulous décor and a well-played theme—the setting anchors the entire event. And when an ordinary venue just won't do, consider an out-of-the-box space to set the stage for a truly extraordinary event.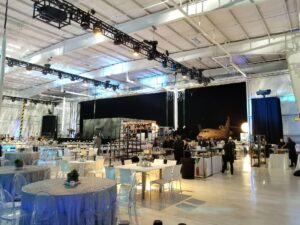 Meeting in a new space- a fabulous event space— inspires imaginative thinking and opens people's minds to new ideas. We have a detailed awareness of event industry vendors and have reputable relationships with lighting, catering and sound companies, florists, rental companies, as well as full-service event production companies. This amazing, industrial event space can accommodate any type of entertainment; including Headliners like "Train" with tons of staging, aerial cirque artists, and room for large displays of any size. For smaller groups, we have smaller hangars of any size to fit your group. We can even bring in Warbirds, Jets, and your very own VIP's planes as the ultimate decor pieces for your event, so the possibilities are truly endless!